Kardol & Verstraten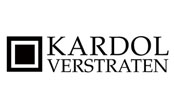 Kardol bedding is designed to stand out. Highly visual, often very urban, and always focused on subtlety of colors, Kardol bed sets help bring sleeping areas alive with vibrant design. Made using 100% cotton sateen, every Kardol duvet cover and sheet combination is luxuriously soft thanks to high thread counts and cotton which is carefully treated to enhance its softness prior to weaving. At the same time, because cotton used in Kardol bedding is treated in this way, sheets themselves benefit from a lustrous sheen, perfect for adding visual distinction to any bedroom.
There are no products matching the selection
This is a custom CMS block displayed if category is empty.
You can replace it with any custom content.