Marjolein Bastin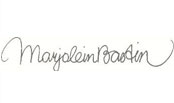 The Marjolein Bastin Bedding Collection draws inspiration directly from the floral artistic works of internationally renowned Netherlands artist, Marjolein Bastin. Famed for her watercolour and acrylic still life scenes, the Marjolein Bastin Bedding Collection brings many of Marjolein's most touching floral and animal illustrations to life in a beautiful assortment of duvet covers and pillow cases. Luxuriously soft thanks to the use of 100% natural cotton, each Marjolein Bastin bedding set embodies a light and airy elegance which helps illuminate bedroom areas without being overbearing. Perfect for complementing a wide variety of decorative tastes, every Marjolein Bastin bedding set is guaranteed to help bring both superb visual elegance and sumptuous comfort to any home bedroom.
There are no products matching the selection
This is a custom CMS block displayed if category is empty.
You can replace it with any custom content.