My Pillow Pets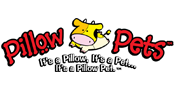 Pillow Pets are unique inventions that are sure to delight any child and even many adults! These are stuffed animals that are actually pillows! With a wide range of characters and animals to choose from, you are sure to find one that your child will love. They come complete with a Velcro strap across the bottom, which makes them look like a stuffed animal by night, but once undone, turns them into a comfortable pillow. These pillow pets are great for long car rides, air travel, or for just around the house!
There are no products matching the selection
This is a custom CMS block displayed if category is empty.
You can replace it with any custom content.