Betula Green Filled Square Cushion by Bedding House
67.46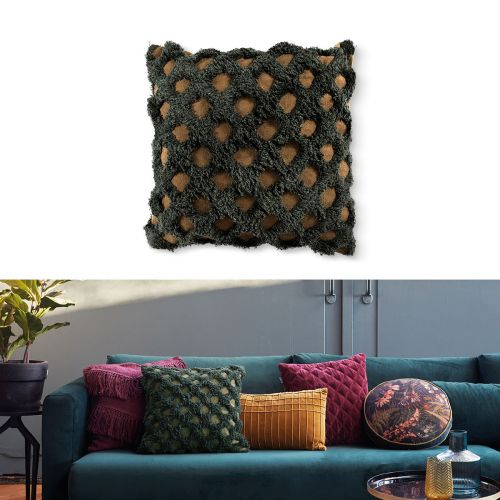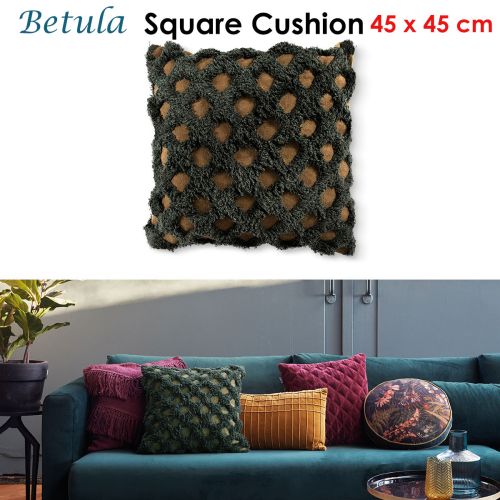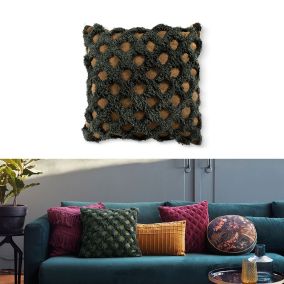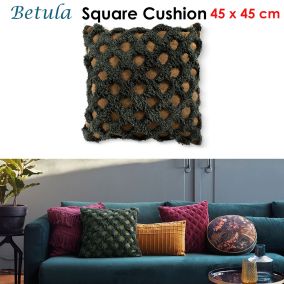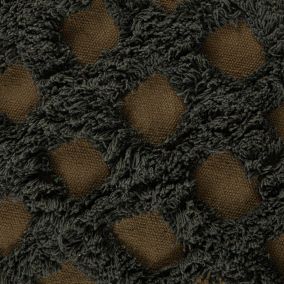 Description
The Betula tufted decorative cushion is totally on-trend! This decorative cushion has a modern tufted pattern of diagonal lines in dark green on an olive green background, which creates a lovely 3D effect. The back of the cushion is the same olive green colour as the front.
The Betula decorative cushion is made from 100% cotton. The cushion measures 45 x 45 cm. The cushion has a zip at the bottom and comes with a resilient polyester inner cushion. Fun detail: the cushion has a golden puller on the zip shaped like an Amsterdam canal house. The cushion cannot be washed in the washing machine and is not suitable for tumble drying. Comes in green and brown colour tones. Made from soft touch and durable Cotton fabric and Polyester fill.
Features:
Set Includes:
1 x Cushion - 45cm x 45cm
Fabrication:
Cotton Cover with Polyester insert
Care Instructions:
Do Not Machine Wash
Do Not Iron
Dry Flat
Do Not Bleach
Do Not Dry Clean
Do Not Wet Clean
Do Not Tumble Dry
Payment

Faster. Safer. Flexible. Anywhere.Payment by cards or Paypal account.

Shop Now. Pay Later.Up to AUD 2,000.00 interest-free in 4 fortnightly payments.

Buy Now. Pay Later. Interest Free.Pay later on a flexible payment plan.
Reviews
Delivery
Manchester House will acknowledge receipt of your order and full payment by confirming it via email, and we commission Australia Post to perform delivery services on our behalf.
Nominated/Incorrect Delivery Address

+

Recipient of the Delivery

+

International Delivery Address

+

International Cross-Border Inspections

+
Returns
Under the Australian Consumer Law, you are entitled to your legal rights to return the goods purchased for a refund, replacement or credit if the good has a major problem. This is when the item is:-
faulty, defective, damaged or unsafe
significantly different from the sample or description, or
not fit for the intended purpose
If the problem is not major, we will repair the item within a reasonable time. If it is not repaired in a reasonable time, you can choose a refund or replacement. Please refer to the Australian Competition and Consumer Commission website at http://www.accc.gov.au for more detailed information. For all change-of-mind returns, go to terms and conditions page for details.
Under the health act, pillows, quilts (also known as duvets or donnas), underlays (or underblankets), bed toppers (or mattress toppers), pillow protectors and mattress protectors are non-refundable unless faulty. As such, you cannot return these items even if they are unused under our change of mind policy. So it is your responsibility to choose carefully prior to your purchase.
Below are our Returns and Exchange procedures.
All returns and exchange must be made within FOURTEEN days upon receipt of the delivery of the products.
All products you purchased are UNUSED and UNWASHED, and in the ORIGINAL PACKAGING (including the cardboard folded between the products and the inserts).
Before returning the goods for an exchange, refund or credit, please contact us at info@manchesterhouse.com.au in order to obtain a Return Authorization Number and step-by-step instructions.

For a return or an exchange, please send us an email marked "RETURNS REQUEST" or "EXCHANGE REQUEST" accordingly.
In your email, please include your name, user ID, contact details, address, original order number(s), product(s) ordered, the item number(s), date of purchase, and the Return Authorization Number and reasons for the return/exchange.

For products that are faulty or incorrectly shipped through any circumstance that is in our error, you will have up to FOURTEEN days from the date of dispatch to claim an exchange, a replacement or refund. Our customer service team will also organize a replacement stock to be dispatched to you if necessary.
As soon as your return has been received by us, one of our customer service team members will attend to the completion of the process.