One Direction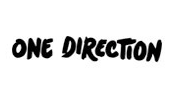 Featuring gorgeous images of the pop idol group One Direction, this quality bed linen collection is definitely a must-have item for any dedicated big fan of this awesome boy band. So, come grab a One Direction quilt cover set to complete your bedding make-over! Cuddle up all night and wake up happy every morning with the boys from One Direction printed on some comfy, easy-care fabric!
There are no products matching the selection
This is a custom CMS block displayed if category is empty.
You can replace it with any custom content.