Tontine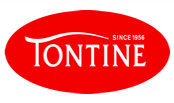 Are you looking for the highest quality pillows, quilts, duvets, and even protectors on the market? Look no further than Tontine. This brand even puts production dates on their products so you can easily determine when it is time to throw something out and buy a new one. With a wide variety of hypoallergenic products, including feather, down, and memory foam options, you'll have no trouble finding a product that is ideal for your bedroom. Produced according to the highest quality standards, it is easy to find an amazing quilt, pillow, and even mattress cover from this innovative brand!
There are no products matching the selection
This is a custom CMS block displayed if category is empty.
You can replace it with any custom content.