Riviera Maison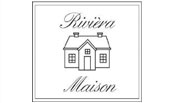 Luxuriously soft and embodying superb interior design consciousness, Riviera Maison bedding is part of a luxury interior design brand story almost 70-years in the making. Beginning in 1948 on Amsterdam's famous Overtoom Boulevard, Riviera Maison first started with the Rivièra Bloemsierkunst flower shop. Expanding in later years to also offer timelessly elegant and comfortable home furnishings, Riviera Maison today is subsequently regarded as one of the world's most inspiring interior design houses. Pairing the unique elegance and distinct style of Riviera Maison with 100% natural cotton, Riviera Maison quilt covers and bedding sets are the perfect way to add both comfort and luxury to any bedroom. All you need to decide upon is which subtle colours and textures will perfectly complement the atmosphere of your sleeping area.
There are no products matching the selection
This is a custom CMS block displayed if category is empty.
You can replace it with any custom content.