Handsfree Book Seat Book Tablet and iPad Holder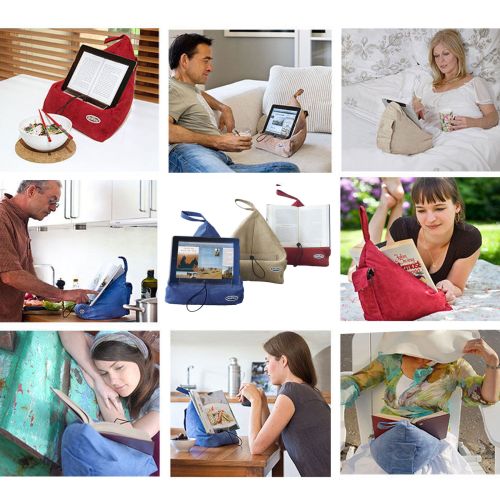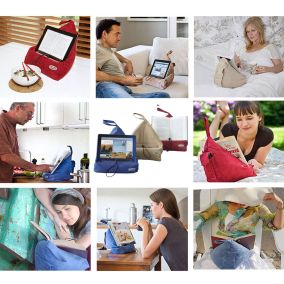 Description
Are you looking for a hands-free reading support device that holds your book or tablet while reading conveniently? The Handsfree Book Seat Book Tablet and iPad Holder offers exactly what you need. The device will mould and shape to sit at any angle on any surface that can support books, novels, tablet computers, magazines, electronic readers, puzzle books and many others. This will allow you to read and relax in hands-free comfort without holding books for extended periods of time anymore. The device has been awarded "Excellent Design", "Best of the Best" and "Innovation of the Year 2014" by the European Economic & Social Committee. This device can relieve discomfort associated with reading for long periods, neck and shoulder pain, and your hands and arms are free from strain and discomfort. The device comes in nine different beautiful solid colours to choose that are stylish and cool.
The Book Seat is suitable for:

-People who love to read for extended periods of time.
-Tablet device users who read, Facebook or watch movies.
-The budding Michelin Chef, as a recipe stand.
-The elderly, who deserve relaxed and comfortable, easy reading.
-Travelers and holiday goers.
Features:
Molds itself
Designed to sit at any angle
Solid Colours Design
Fabrication:
Outer fabric : Micro Suede
Filling : polystyrene beans
Care Instructions:
Brush gently with a clothes brush or spot clean with a damp cloth
See label for detailed instructions before first use.
Payment

Faster. Safer. Flexible. Anywhere.Payment by cards or Paypal account.

Shop Now. Pay Later.Up to AUD 2,000.00 interest-free in 4 fortnightly payments.

Buy Now. Pay Later. Interest Free.Pay later on a flexible payment plan.
Delivery
Manchester House will acknowledge receipt of your order and full payment by confirming it via email, and we commission Australia Post to perform delivery services on our behalf.
Nominated/Incorrect Delivery Address

+

Recipient of the Delivery

+

International Delivery Address

+

International Cross-Border Inspections

+
Returns
Under the Australian Consumer Law, you are entitled to your legal rights to return the goods purchased for a refund, replacement or credit if the good has a major problem. This is when the item is:-
faulty, defective, damaged or unsafe
significantly different from the sample or description, or
not fit for the intended purpose
If the problem is not major, we will repair the item within a reasonable time. If it is not repaired in a reasonable time, you can choose a refund or replacement. Please refer to the Australian Competition and Consumer Commission website at http://www.accc.gov.au for more detailed information. For all change-of-mind returns, go to terms and conditions page for details.
Under the health act, pillows, quilts (also known as duvets or donnas), underlays (or underblankets), bed toppers (or mattress toppers), pillow protectors and mattress protectors are non-refundable unless faulty. As such, you cannot return these items even if they are unused under our change of mind policy. So it is your responsibility to choose carefully prior to your purchase.
Below are our Returns and Exchange procedures.
All returns and exchange must be made within FOURTEEN days upon receipt of the delivery of the products.
All products you purchased are UNUSED and UNWASHED, and in the ORIGINAL PACKAGING (including the cardboard folded between the products and the inserts).
Before returning the goods for an exchange, refund or credit, please contact us at info@manchesterhouse.com.au in order to obtain a Return Authorization Number and step-by-step instructions.

For a return or an exchange, please send us an email marked "RETURNS REQUEST" or "EXCHANGE REQUEST" accordingly.
In your email, please include your name, user ID, contact details, address, original order number(s), product(s) ordered, the item number(s), date of purchase, and the Return Authorization Number and reasons for the return/exchange.

For products that are faulty or incorrectly shipped through any circumstance that is in our error, you will have up to FOURTEEN days from the date of dispatch to claim an exchange, a replacement or refund. Our customer service team will also organize a replacement stock to be dispatched to you if necessary.
As soon as your return has been received by us, one of our customer service team members will attend to the completion of the process.